«EVERYTHING GOES RIGHT AND LEFT IF YOU WANT IT»
PAINTING AND COLLAGE BY SERGEI SVIATCHENKO
Sergei Sviatchenko is an artist and architect who left for Denmark in 1990 and visited Uzhhorod, Ukraine for the first time since leaving in the autumn of 2017.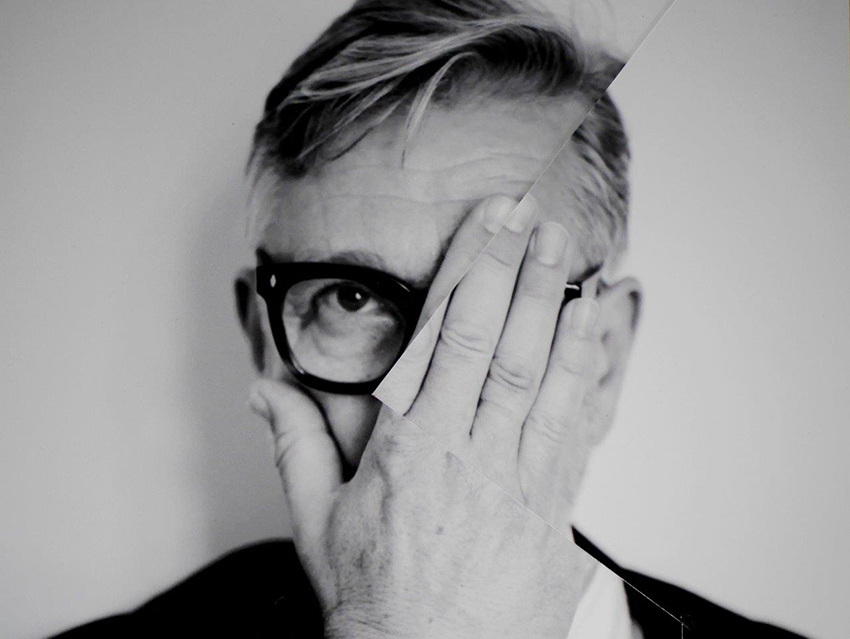 During these 27 years Sviatchenko has managed to become one of the most sought-after artists of Denmark, to found a non-profit gallery and to gain worldwide fame as the creator of his own direction in collage art called "less-collage". The artist divides his art into two main branches, the "right" (painting) and the "left" (collage). In the 2000s a number of monographs devoted to Sviatchenko's painting and collages were published in Danish and Austrian publishing houses, and in 2012 a two-volume "Everything Goes Right And Left If You Want It" was published in Berlin "Gestalten", combining both branches of the artist's work.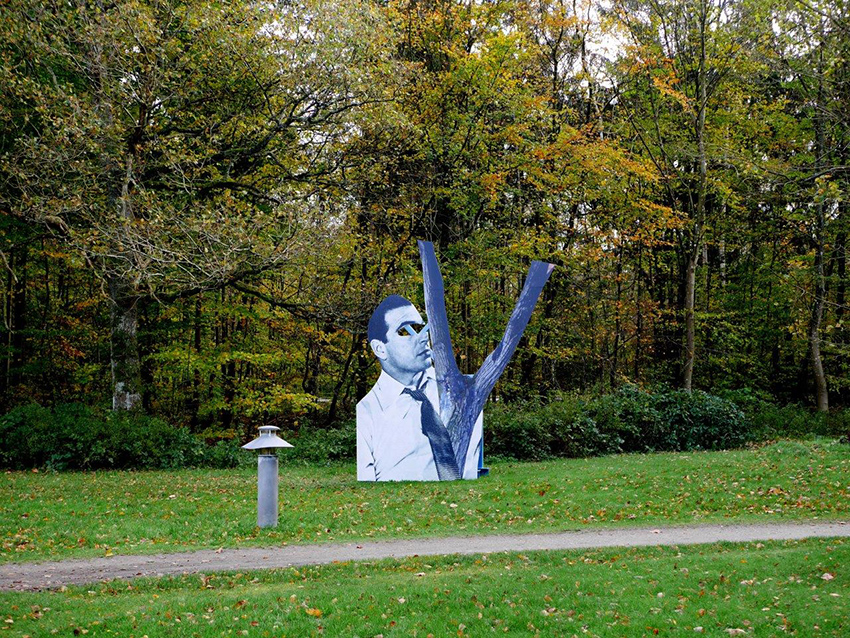 Sergei Sviatchenko was born on October 7, 1952 in Kharkiv. He graduated from the architectural faculty of the Kharkiv Academy of Art and Architecture (now Kharkiv National University of Construction and Architecture) in 1975, then he moved to Kyiv, where he earned PhD at the Kyiv School of Architecture (now Kyiv National University of Construction and Architecture) in 1986. In the late 80's he co-founded the Center for Contemporary Art "Soviart" in Kyiv and was one of the key organizers of the first Kyiv exhibitions of contemporary art. Among them, the landmark projects Kyiv-Tallinn (1987) and Kyiv-Kaunas (1988) at the Polytechnic Institute, as well as the First Joint Exhibition of Soviet and American Artists (Kharkiv, 1988), "21 views. Young Modern Ukrainian Artists" (1989) and "Ukrainian Painting (60s-80s)" (Kyiv / Odense, Denmark / Munich, Germany, 1990), "Flash. A New Generation of Ukrainian Art" (Kyiv, 1990).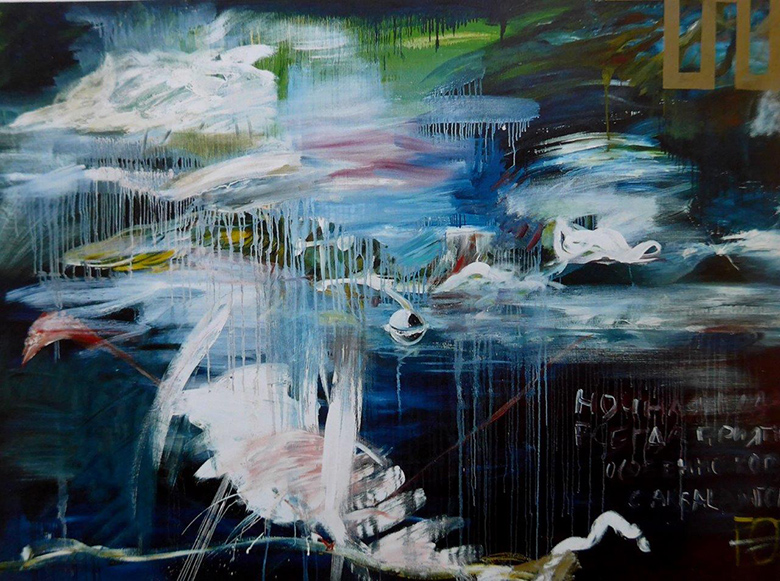 Natalia Matsenko: "The theory of joy and pleasure", the basis of the "right" branch of your work, is a pictorial series, which includes the landmark work "In the Mountains of Joy" (1989) from the exhibition "Ukrainian Painting (60s-80s)". But it does not have any kind of manifest rationale, a literal articulation in the form of a theory, right?
Sergei Sviatchenko: "The theory of joy" is created at the level of a subconscious proclamation. It is rather emotional-physical. The 1989 work "Beyond the Mountains of Joy" was inspired by the pictorial works of the Peredvizhniki artists, the most replicated works of the time that almost all Soviet people knew. It seemed that this art was the only and necessary for contemplation of all citizens of the Soviet Union. Faded reproductions, inserted in standard "gold" frames, surrounded us everywhere: in schools, clinics, plants, factories and party offices. I grew up surrounded by these stereotypes.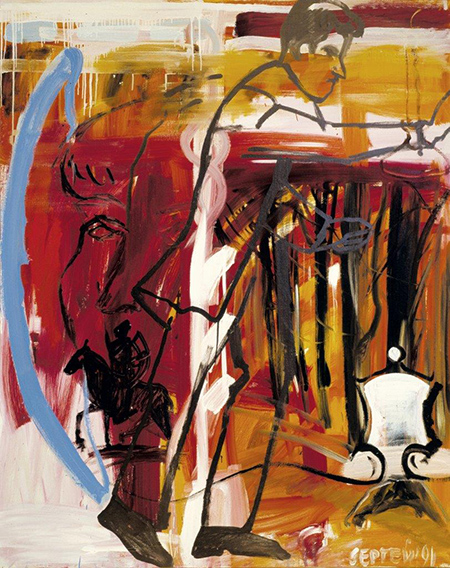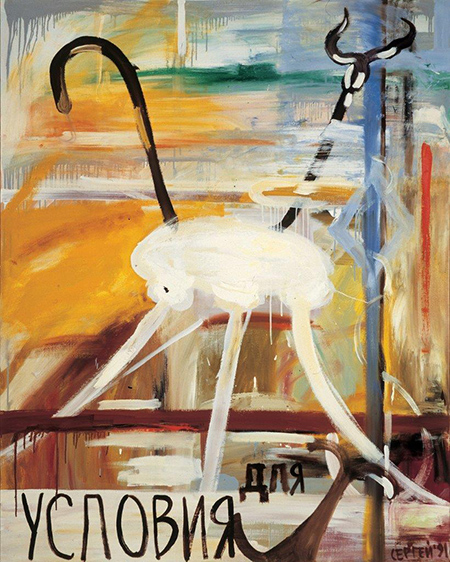 Paradoxical in this situation was that the original painting of these artists had nothing to do with faded reproductions. This painting was based on the deepest sensual emotions, impeccable pictorial quality and technique, the mood and joy of contemplation, extraordinary light and color. When my father and I visited the Kharkiv Art Museum to watch Repin's "Reply of the Zaporozhian Cossacks" he told me: "Look how the faces are painted, such characters." And I really felt it all. Take the "The Rooks Have Come Back" or "Bogatyrs". This is a magnificent painting, which had nothing to do with the stereotypes surrounding it. But it was necessary to understand this distance, it was necessary to be my father, to put this understanding into me.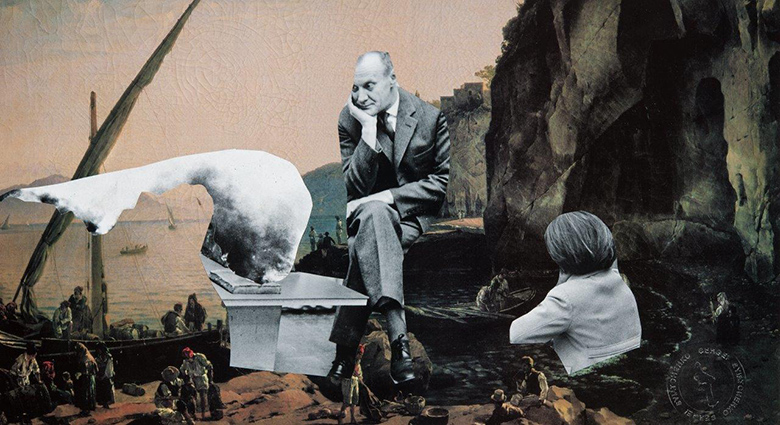 In my youth, I was very keen on the Peredvizhniki and set myself the task of transforming the sensual, emotional outbursts that I received from viewing their works, into abstract painting. My first paintings were created in this vein. Of course, later my style has been transformed, texts and symbols were added, a new palette emerged, but anyway, all that I've done is I took Peredvizhniki and transformed them into an abstract painting. From the stereotype to abstract expression.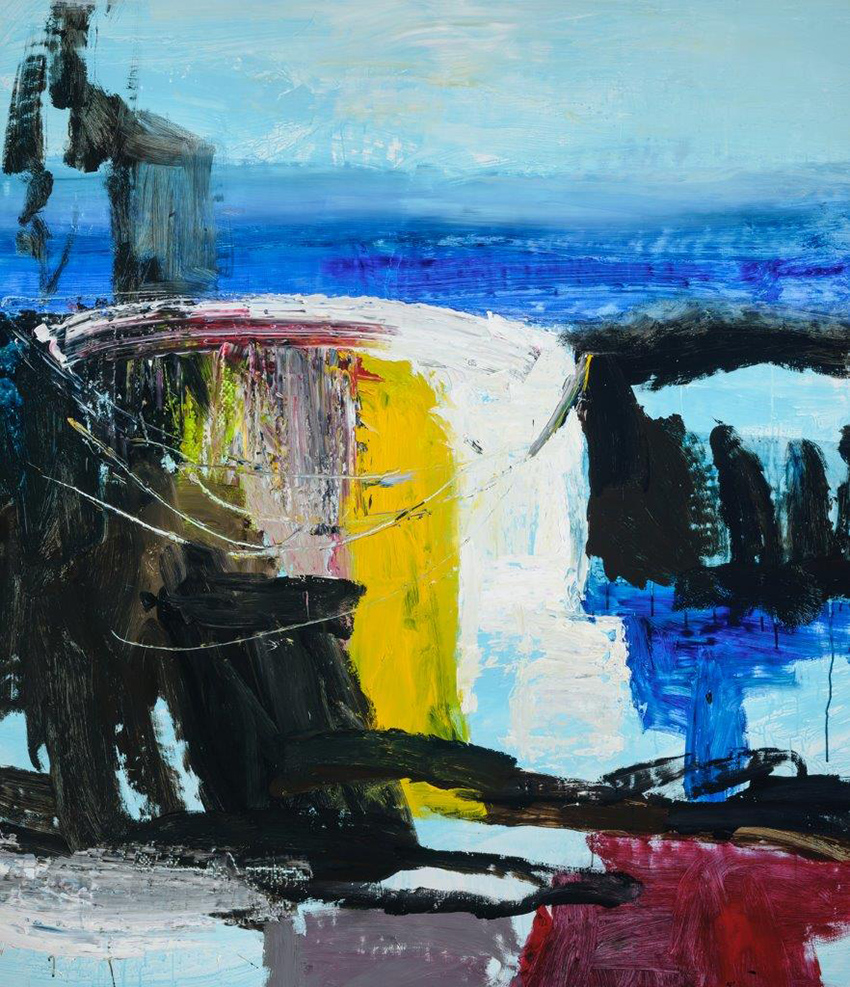 NM: Your comment on the stereotype is curious. Perhaps this was the historical moment, due to a long existence in the ideological framework, but interest in working with stereotypes was characteristic of the Ukrainian art of the 80s and 90s. And from completely different positions. For example, Tistol and Reunov, who in parallel fought in their "Volitional Edge of National Post Eclecticism" for "the beauty of the stereotype".
SS: Yes, this is an interesting moment. This could be a separate text on the stereotype. Communicating recently, we found so much in common. Absolutely different people who developed in completely different contexts and had completely different priorities. And still we are in contact somewhere.
NM: Your division of creativity into "right" and "left" branches is made by analogy with the hemispheres of the brain: sensory and rational. Was it your conscious position, to separate these roles or has it come to life naturally?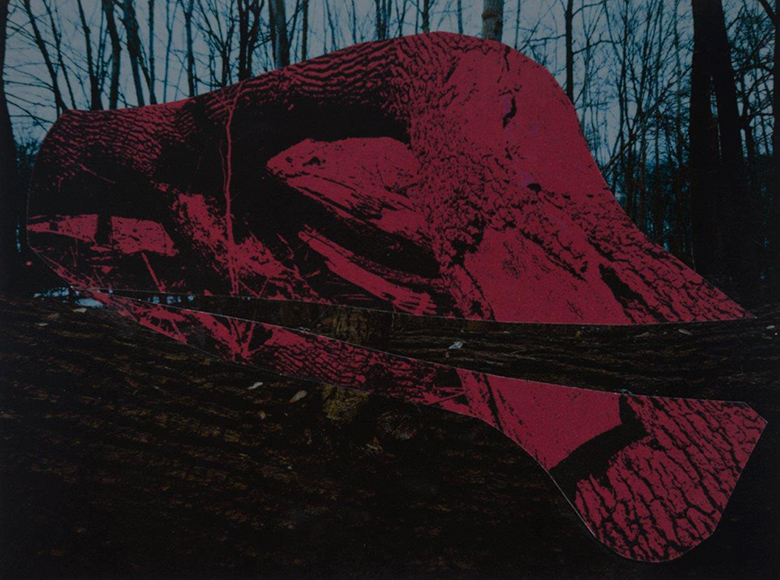 SS: It happened naturally. "The theory of joy" is the "right" part of my work. "Left" part of my work are collage series; in particular the LESS series, formulated as the theory of "aesthetic surprise", where I collect personal artistic priorities, built on a subconscious, associative and impulsive thinking, drawing inspiration in the depths of memory, specifically in the works of Alexander Rodchenko and Gustav Klucis.
The choice of color, laconism and strength of compositions, the tendency to use elements on an absolutely diverse scale and leave, in particular, a lot of empty space — these characteristics in their work had a definite influence on me. I was introduced to their creativity also by my father when I was a student of the Faculty of Architecture. He himself did a lot of collages and this technique was always present in our house.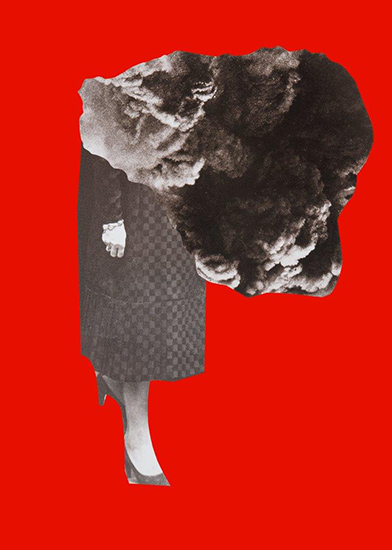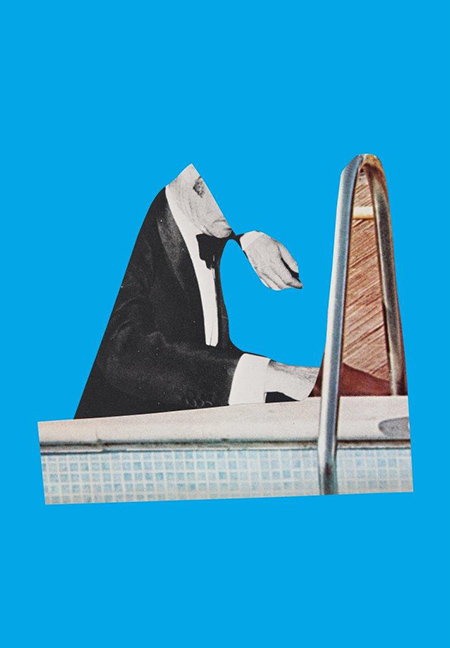 Less-collage is a strict minimization in the selection of elements to create images. Works from the Less series, which I create since mid-2000, consist of only two or three elements, soaring on bright backgrounds. I deliberately severely limit the number of fragments, and pure saturated colors that fill the background space do not overshadow images, but make them visually more prominent.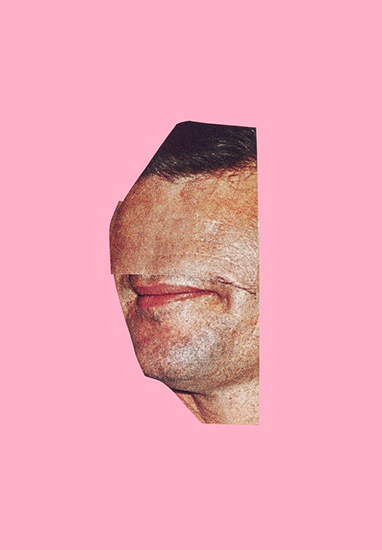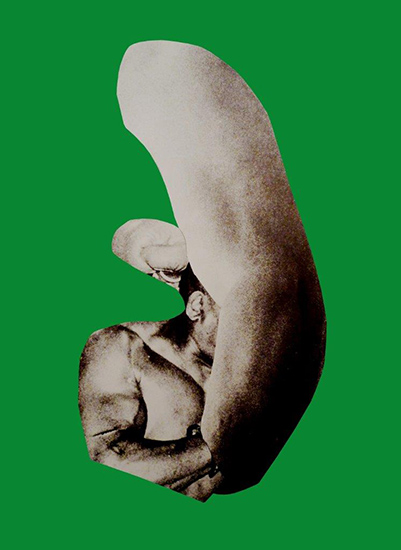 By combining two theories, "joy and pleasure" and "aesthetic surprise", a line appears, specifically, horizontal and vertical links, the principles of layers and connections, of movements to the right and to the left, where almost everything begins in my world, where the essential and code system, which is being built from the very foundation to the top, still works.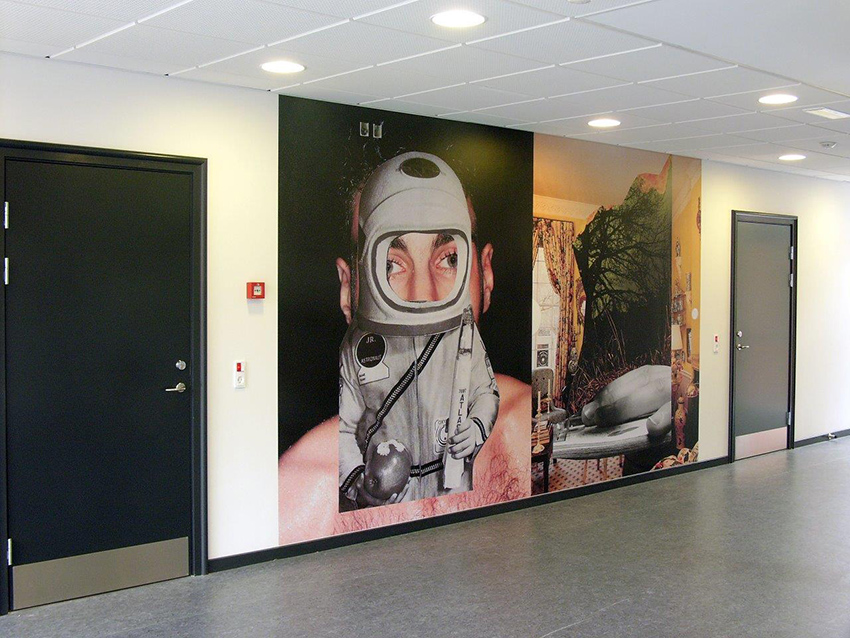 NM: In a sense, it can be said that this "left" and "right" is a metaphor for some "external" component of your creativity and more intimate, closer to personal history, to childhood memories, to the sensory perception of reality. Their connection is also a kind of collage.
SS: The fact is that quite recently, just a couple of days ago, I found out that my father and mother congratulated each other in their correspondence with various clippings from photographs and magazines. I did not know about it. When they asked me who your inspirers were, I always said that it was Rodchenko, Lisitsky, Klutsis and so on. But it turns out that these were my mom and dad who did collages, congratulating each other on some jubilees. And in the end it grew into a whole direction of my work.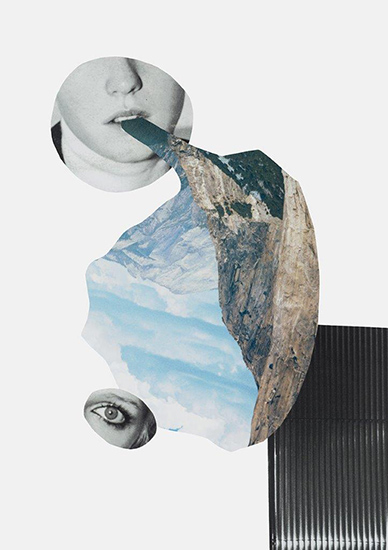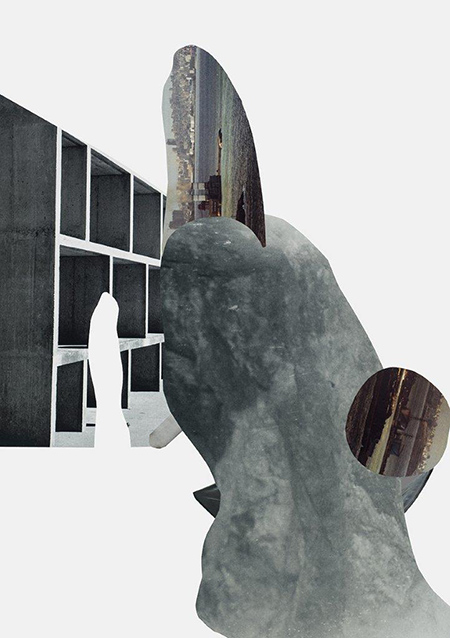 In February 2018 a large group exhibition opens in London, with all the stars of contemporary collage, which I was invited to. Five star artists of a collage, and I'm among them. Do you know why? I'm pretty old. I have been working with collage since 1983. And there are not so many people in the world who are constantly and so consistently working with this medium. Now there are many young talented artists, 25-30 years old, who are engaged in collage, but they are still young and are just beginning their journey.
NM: But now the digital technologies are popular, allowing to minimize the costs and giving more opportunities.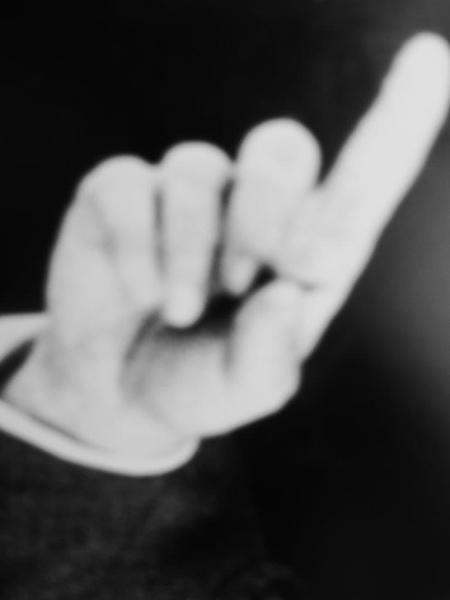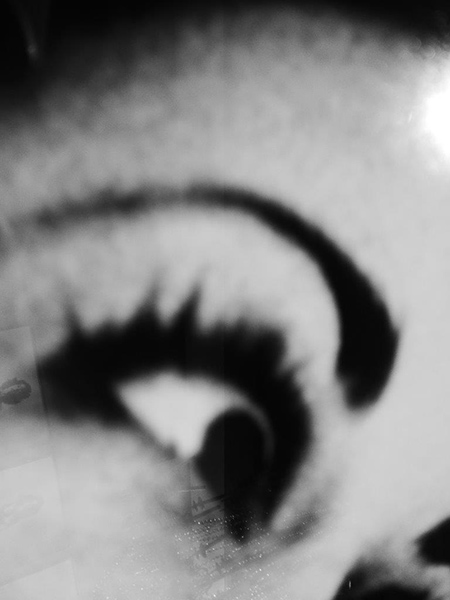 SS: Yes, but I have everything "hand maid". Rick Poynor, when he wrote about my collages, noticed that I even have my own cut. That I cut the paper in a certain way. I don't cut it precisely, it doesn't interest me, I cut it the way I like. And now this appearing contour is interesting for its dynamics.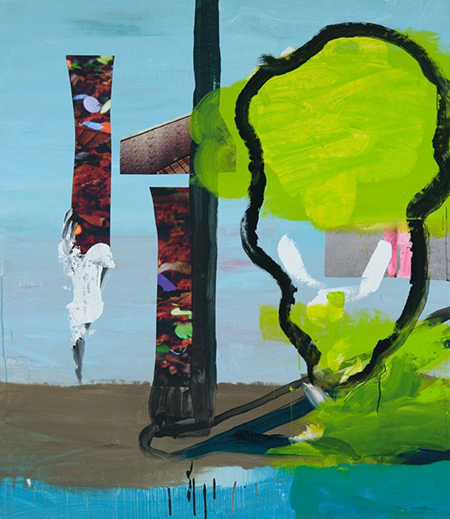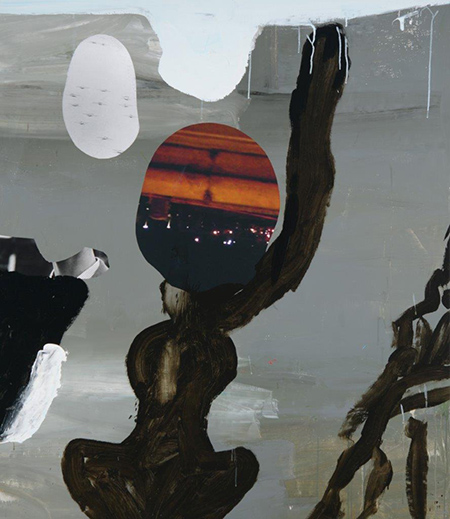 NM: It seemed to me that despite all the rationality and laconicism of your collages, there is a lot of corporeality in the forms used. And this sensuality, characteristic of your painting, can be seen in collages. All these shapes, lines are felt as something alive.
SS: I'm so glad that you just now said this word, because this is the key word of my work, "sensuality". Once, during our walks in Gorky Park (in Kharkiv - NM) with my teacher, professor of architecture V. Antonov, who, by the way, was a great friend of A. Tarkovsky, he spoke to me about catharsis, which, for example, occurs when you go for a long time in the dark forest, and then suddenly you come to a meadow fully lit by the sun. This feeling of purification and joy is the main component of my work.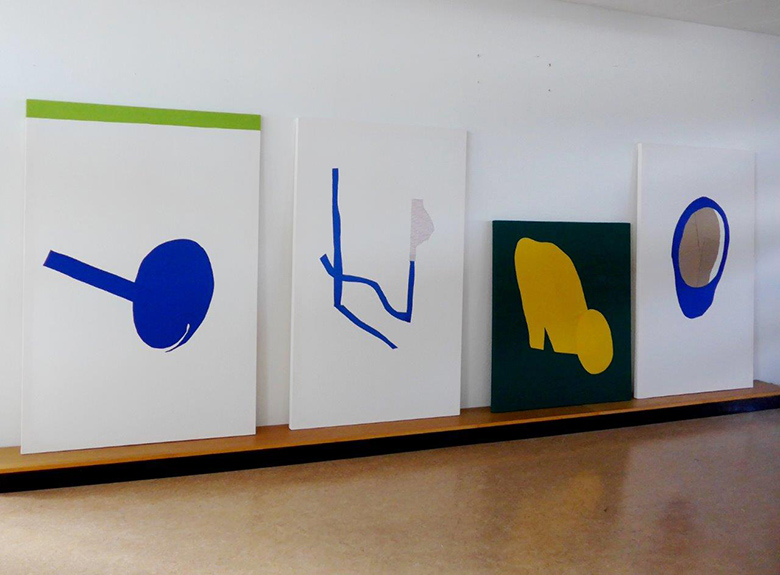 Or when you stand and watch a stunning sunset. We (in Denmark - NM) have a place where, during sunset, people, up to a hundred, just stand on the shore, and there is only one line ahead, where the water meets the sky, and people watch as the sun slowly-sits down, and there remains a small piece of it, and a moment later you can't see it at all. And do you know what everyone is doing at this moment? They clap.
That's the same feeling. And I was amazed when I saw it. When the sun sets in the water it's a natural process, why would one applause? But they clap, because this is a tremendous natural sensual performance. I treat such moments very carefully.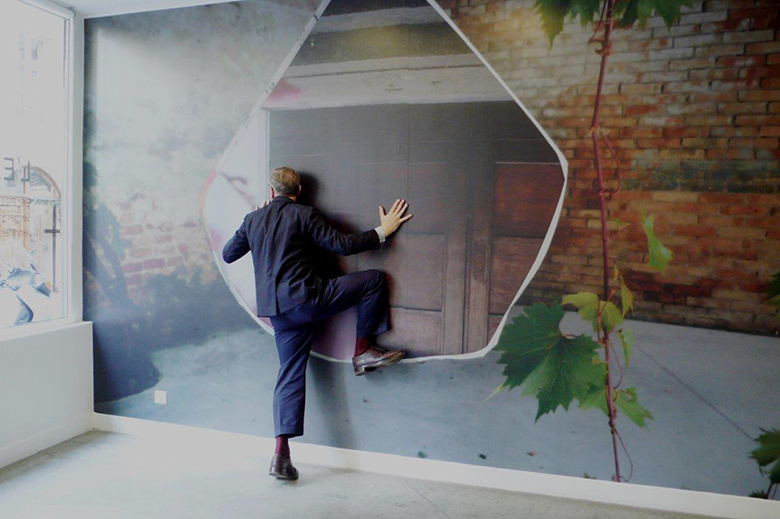 And the second is collage as the life status of all of me. Connection, layering of the elements of our life, relationships, anything. Horizontal and vertical communication. The principles of collage can be fit to absolutely any life role.
These are the principles that I work with.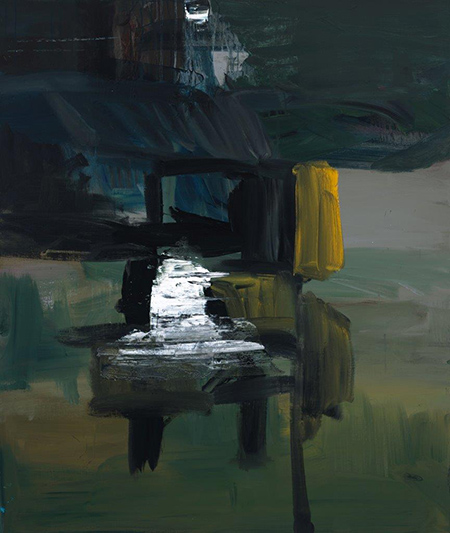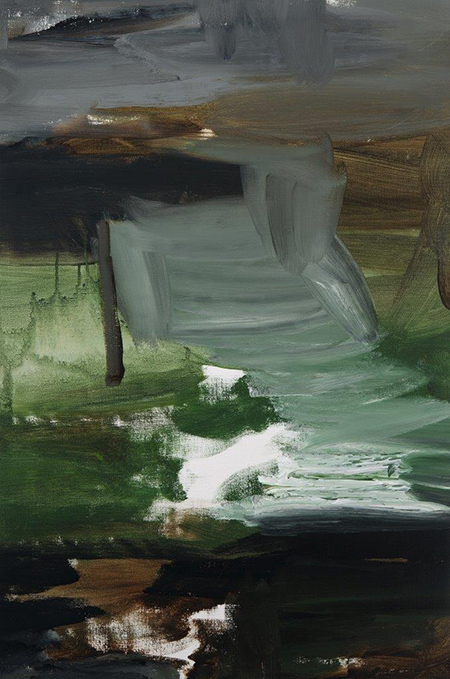 And light plays a huge role for me. Light as an element of life, an element of mood. Not just light, but a stream of light, a powerful filling beam of natural light that falls and illuminates, cleanses you — and you become another person.
Interviewed by Natalia Matsenko